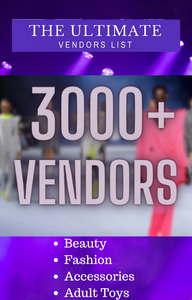 Discover the ultimate resource for beauty and fashion enthusiasts with our meticulously curated vendor list. Whether you're a fashionista, makeup artist, or business owner, this extensive compilation offers a wealth of options to explore and leverage.
Explore a Wide Range of Categories:
This comprehensive list encompasses an extensive array of categories, ensuring there's something for everyone. Discover the latest trends, styles, and products across beauty and clothing, including cosmetics, skincare, haircare, apparel, accessories, footwear, and much more.
Handpicked Selection:
Our team has spent countless hours handpicking vendors to ensure the highest quality and diverse range of options. From established brands to emerging designers, renowned beauty houses to indie cosmetic artisans, we've curated a collection that caters to all tastes, budgets, and preferences.
Grow Your Business:
Entrepreneurs and retailers will find immense value in this vendor list, as it provides a valuable shortcut to sourcing products for your business. Whether you run an online store, boutique, salon, or beauty consultancy, our list offers a multitude of vendors eager to collaborate and support your growth.
Stay Ahead of Trends:
As the beauty and fashion industries evolve rapidly, staying up to date is crucial. Our vendor list is continuously updated, enabling you to stay ahead of the curve and access the latest products, technologies, and fashion-forward styles. Discover emerging brands and innovative products to keep your offerings fresh and exciting.
Save Time and Effort:
With 3000 vendors at your fingertips, this list saves you the hassle of conducting extensive research and searching through countless websites. Instead, streamline your search process and focus on what matters most—building your brand, expanding your product range, and providing an exceptional customer experience.
Whether you're a passionate beauty enthusiast, a dedicated fashion professional, or an ambitious entrepreneur, our vendor list for beauty and clothing is your ultimate guide to navigating the ever-evolving world of style. Unlock countless opportunities, tap into emerging trends, and take your business or personal style to new heights. Start exploring today! Product will be immediately sent via email in PDF format.